STENOMASK / STENO SR
Stenomask is a hand-held microphone built into a padded, sound-proof enclosure that fits over the speaker's mouth. The purpose of a Stenomask is to allow a person to speak without being heard by other people, and to keep background noise away from the microphone.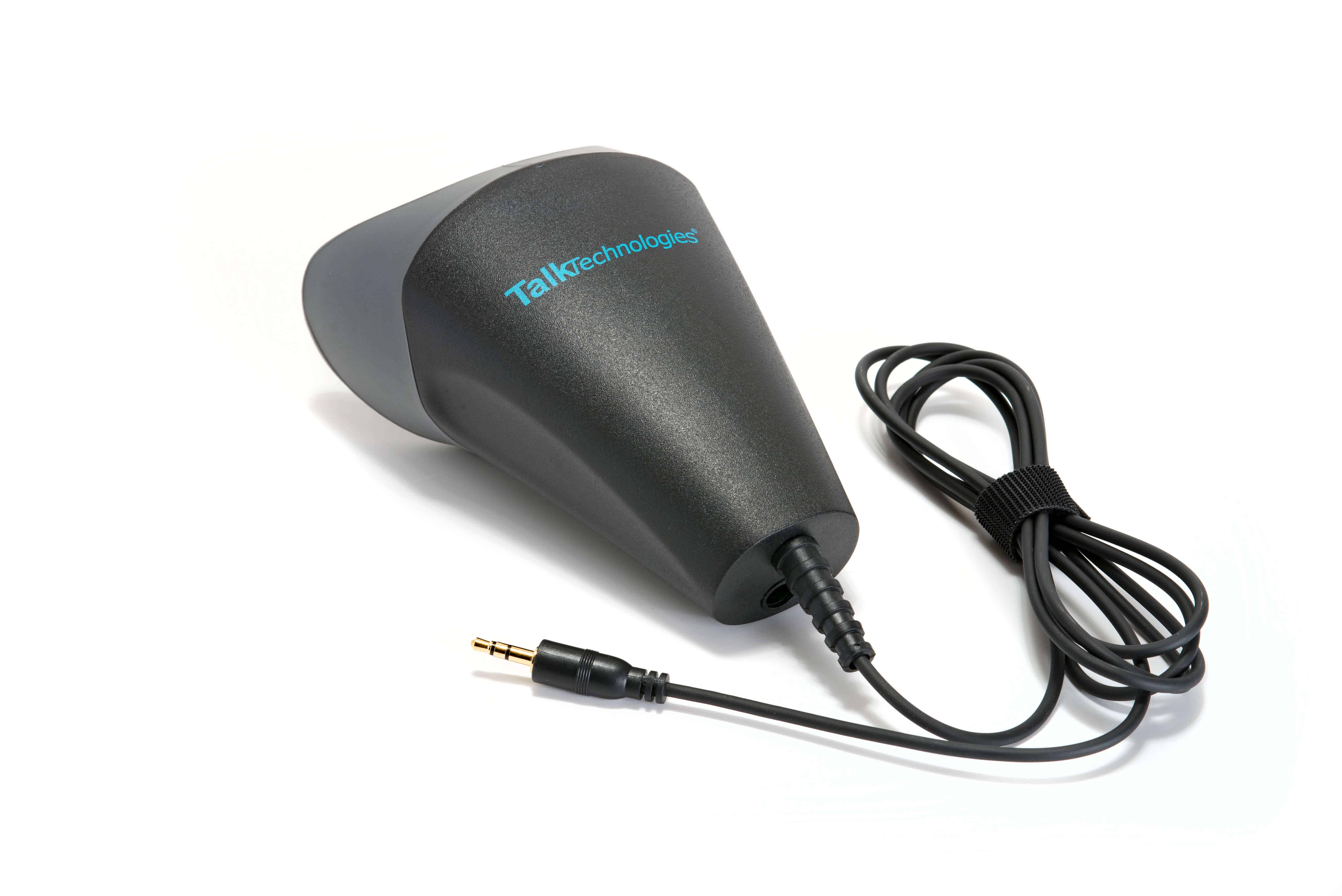 Are you looking for Voice Privacy and Noise Cancellation at the Office, in Public or at Home? You've Found the Best Solution for a Quieter, More Private Life…that Costs Less
Talk Technologies sixth generation Stenomask, the Steno SR series guarantees absolute voice privacy and a crystal-clear sound signal while simultaneously eliminating all background noise. Engineered to replicate the noise proofing properties of the world's premiere sound booths the Steno SR yields 100% noise cancellation and our patented technology makes it the most accurate microphone on the market today.
Ideal for crowded and noisy environments where privacy and discretion is a must. Stenomask can be used with any type of device including, phones, tablets, computers, recorders, transmitters, two way radios and amplifiers. Wherever there is a microphone input, you can use a Stenomask.
The highest accuracy speech recognition results
Exceptional sound quality and noise cancellation is especially important when using speech recognition to verbally transcribe information. Stenomask coupled with speech recognition software such as Dragon, allows you to achieve up to 100% text accuracy in real-time by eliminating all background noise. Going from your voice to your text document has never been more accurate or private.
Security you can trust
Voice security and privacy are more important and harder to find than ever. For this reason we invested over three years of research and development to create the Steno SR series. It provides total voice privacy and the best noise cancellation properties of any microphone device available on the market today.
Steno SR highlights
The most accurate and private voice mask on the market
30% lighter and quieter than any previous mask
Enhanced SmartMic technology for speech recognition
Ergonomically designed for extended use
Lightweight cords with stereo plugs
Several models to choose from including a removable hands free option
Domestically manufactured, assembled and tested in house
Most affordable Stenomask to date now with optional 3-year extended warranty
Stenomask is currently used by:
Professionals that require privacy when speaking on the phone
Workers in open space offices and public places

Physicians and healthcare professionals using speech recognition software such as Dragon Medical, c

omplies with HIPPA privacy and security rules
Court Stenographers for verbatim recording of court proceedings
Interpreters for simultaneous language translation
Police, military and security personnel for communicating and transcribing privately
Job trainers and supervisors in noisy work environments
Speech recognition software users

Persons with special needs / Assistive technology
Ideal Situations for Stenomask
Verbal documentation of information when and where privacy is of the utmost importance
Conducting private phone conversations or voice to text in any situation
Simultaneous language interpretation without the need for a sound booth
Privately transcribing emails or documents on a train, bus or airplane without disturbing others
Discreetly taking verbal notes during a lecture or business meeting
Crystal clear voice communication on a high decibel work site or situation. e.g. engine room, construction site, airport, concert, nightclub
Verbally transmitting sensitive or personal information without fear or consequence of being overheard by someone or listened in on by surveillance equipment
 If you think the noise level in your workplace could be harming productivity and well being, you don't have to shell out tens of thousands of dollars in acoustical upgrades. Consider a practical solution to reducing noise levels in your space that can be implemented immediately at little cost.
"Using a Stenomask eliminates the background noise in our busy workplace while at the same time providing a private and accurate microphone for speech recognition. We don't require a private room or office to take voice notes, Stenomask can be used anywhere."
K. Somner, B.C. Ministry of Health
"Thank you for the wonderful surprise, my new Steno SR Pro. I spent quite a bit of time testing the mask and I'm thrilled to report it is even better than the previous SmartMic design. Your claims are correct on all fronts. It's considerably lighter and quieter. The speech recognition accuracy is amazing and I love the new sleeker, streamlined design. Court reporters will be very pleased! In my opinion there was no need to come up with a new mask design, yet you guys did and made it remarkably better.
Congratulations, very high tech!"
Bettye A. Keyes, CCR, CSR, CVR-M, RVR
Looking for more reasons to use Stenomask? https://resonics.co.uk/12-ways-noise-affects-employee-wellbeing-health-productivity/