Court reporting is making a comeback, there has never been a better time to become a voice writer
More legal proceedings demand a human touch.
At last, the humans win one. Court reporting, a skill that seemed destined to be replaced by electronic tape recorders, is making a comeback — and bringing a lot of very good jobs.
Once upon a time, the fast-tapping typists — who must hit 225 words-per-minute with 95% accuracy to be deemed competent — were a ubiquitous sight across New York City's court system.
Demand for live court reporters faded in the 1990s, when budget cuts prompted many of the city's courts to switch to electronic recorders and farm out the tapes to inexpensive freelance typists.
"There have been many, many instances in the past when recordings have failed, the machinery didn't work, or it just wasn't turned on due to human error," said Eric Allen, president of the Association of Supreme Court Reporters.
Traditional schooling for court reporting takes three years of intense training and testing. Voice writing (a method used for court reporting, medical transcription, and closed captioning) students can expect a shorter period of formal education. Although many court reporting schools offer voice writing certificates or professional diplomas, voice writers do not need to complete a comprehensive court reporting program; instead, a voice writing certificate often takes about 6 to 12 months to complete.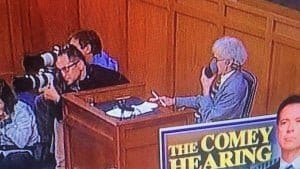 A verbatim court reporter uses a Stenomask to document testimony from James Comey  during the Senate Intelligence committee hearing on Trump and the Russia probe.
Voice Writers
Voice writers enjoy very high accuracy rates, and many are drawn to the naturally effortless appeal of this career. Unlike traditional court reporters who utilize the stenography method of court reporting, voice writers need not learn stenography and shorthand. And, because the act of voice writing is far more streamlined than stenography, these professionals enjoy speeds of up to 350 words per minute.
Using the voice writing method, a court reporter speaks directly into a stenomask – a rather unique instrument that accomplishes two goals for the voice writer: it silences the voice writer's voice through advanced voice-dampening materials, and it records the voice writer's spoken word through a highly sensitive digital microphone. Today's stenomasks guarantees near-complete silence from the voice writer, thereby ensuring that courtroom proceedings are not interrupted.
The voice writer, who holds the stenomask over the mouth when speaking, must ensure that everything in the courtroom is repeated as accurately as possible. This means that all spoken words, gestures, emotional reactions, and sounds made by the judge, the witnesses, the attorneys and other parties must be recorded.
Verbatim Reporting
Verbatim reporting may involve either realtime feeds of the proceeding or the preparation of a transcript following the proceeding's conclusion. The stenomask is connected to a laptop computer, which is loaded with the latest speech recognition software, thereby allowing the voice writer's spoken notes to be translated onto a screen via a realtime feed or into transcript form. An attached foot pedal allows the voice writer to stop and start the recording process, as desired.
A voice writer, once the spoken words are converted through the speech recognition engine, may stream the text to a computer file, the Internet, a television station, or to software that can allow for easy viewing of the transcript.
The median annual wage for court reporters was $49,500 in May 2015. The median wage is the wage at which half the workers in an occupation earned more than that amount and half earned less. The lowest 10 percent earned less than $27,180, and the highest 10 percent earned more than $90,510.
In May 2015, the median annual wages for court reporters in the top industries in which they worked were as follows:
| | |
| --- | --- |
| State government, excluding education and hospitals | $53,550 |
| Local government, excluding education and hospitals | 52,290 |
| Business support services | 42,860 |
Freelance court reporters are paid for their time, but can also sell their transcripts per page for an additional profit.
Court reporters who work in a court setting typically work full time recording events and preparing transcripts. Freelance reporters have more flexibility in setting their work schedules.
For more information on becoming a voice reporter visit;
Nationwide Demand for Voice Reporters Skyrockets
International Real Time Court Reporting Institute
The College of Court Reporting (CCR)